null
Data Analytics for digital transformation of SMEs
Data Analytics for digital transformation of SMEs
Version: ITA o ENG
Duration:
Course description
Il corso illustra le potenzialità della Data Analytics come strumento di trasformazione digitale per piccole e medie imprese. E' concepito e rivolto principalmente, ma non soltanto, a decisori aziendali (es. CEO, repsonsabili di unità di business) interessati ad acquisire o rafforzare una cultura del dato e della sua moderna analisi. Il tutto con l'obiettivo di: 1) iniziare a censire ed ordinare il patrimonio di dati aziendali attraverso approcci sistematici e valutazioni misurabili; 2) comprendere, individuare ed avviare percorsi progressivamente sofisticati di estrazione di valore dai dati mediante potenti ed intuitivi strumenti open source di analytics.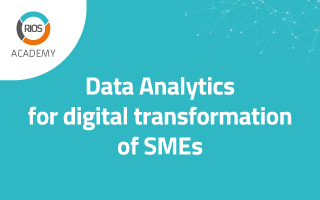 Program
Obiettivi:
1. Data maturity assessment
2. Roadmap for data analytics adoption
3. Initial inventory of data sources

Programma:

a. Revision of Big Data analysis and analytics
Data, algorithms, models, paradigms, enablers, actors, CI/CD process
Principles of machine learning and (weak) artificial intelligence
b. Introduction of a Data strategy for analytics
Main pillars, critical elements, use cases
c. Towards a data capability assessment
Data maturity benchmark, analytics capability maturity models, data activation framework
d. Towards a roadmap for Data Analytics adoption
Strategic business/operational goals, data (re-)engineering and wrangling, tools and technology
Culture of incremental and safe experimentation
e. Examples of Data Analysis/tics of interest (in business units)
Introduction to KNIME, an open source tool for visual Data Science and Analytics
Realistic toy datasets and models, scenarios, KPIs
Inspiration for future implementation
f. Full inventory of data sources (per business unit)
Collection of details about data of interest in structured formats (e.g. Excel spreadsheet, relational database table)
Modalità di fruizione
In presenza o online
Required Courses
To follow the course of Data Analytics for digital transformation of SMEs is preferable to have attended:
Enabeled Courses
The course Data Analytics for digital transformation of SMEs enables the following courses:
Vuoi maggiori informazioni sul corso?